First Aid Kit - Your 3-Stage Injury Kit for the Accidental Athlete

O
ops! Did you hurt yourself?
A first aid kit is an inexpensive but valuable sports injury tool for the accidental athlete.
Sports Injury Kits... the accidental athlete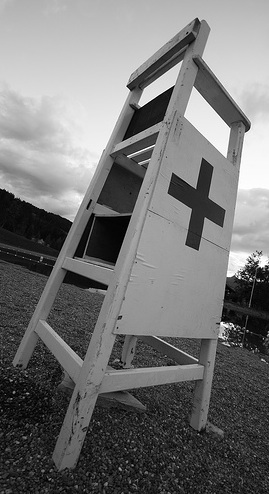 Accidents happen. It's a universal law. Moreover, this universal law becomes more prevalent the more active you become.

What does this mean to you? Simply, the more sports or activities you and your family participate in, the MORE you need to be prepared.

THIS is where your sports injury kit comes in.

Indeed, if there is one essential standby in the home and workplace, or for the sportsman or sportswoman, it has to be the injury kit.

But don't injury kits cost a lot of money?

They don't have to.

While there are some excellent kits available on the market, it is just as easy (and cheaper) to assemble your own!


Photo courtesy of Neil Sharp
---

Your 3-Stage First Aid Injury Kit
---
Below you will find your 3-stage injury kit, with stage 1 a recommended minimum. As you become more proficient or more serious about your fitness or sport, add stage 2, and finally stage 3.
Stage 1. Home
Box of different sized plasters
Sterile gauze pads (a clean and ironed handkerchief will do)
Gauze bandages
Box of bandages of various sizes
Plastic bags for ice (or packet of frozen peas - ideal for applying to injuries during injury rehab
Scissors
A First Aid book

Stage 2. Workplace

Safety pins
Sling
Scissors (2 inch medical blade scissors)
Needle
Cotton wools
Antiseptic fluid/wipes
Tweezers
Rubber bands
Aspirin/painkillers
Adhesive tape
Butterfly bandage
Eye-bath and eyewash
Thermometer
Antacid tablets

Stage 3. Recreation

Strapping tape and/or brace
Aerosol coolant spray
Plastic or 'second skin' product for blisters
Fluid replacement drink
Nail clippers
Petroleum jelly
Baby oil/massage cream
Elastic knee/ankle/elbow support
Foot powder
Anti-inflammatory drugs
In Summary
A first aid kit doesn't have to cost a fortune. Your sports injury kit can begin with a handful of essential, basic items.
And while accidents WILL happen, for very little cost, you can easily be prepared for them.