"Building Muscle After 50 - Mass Gain Study Results from People Like You!"
Discover the secret to building muscle after 50 and gain mass and size at almost freakish rates!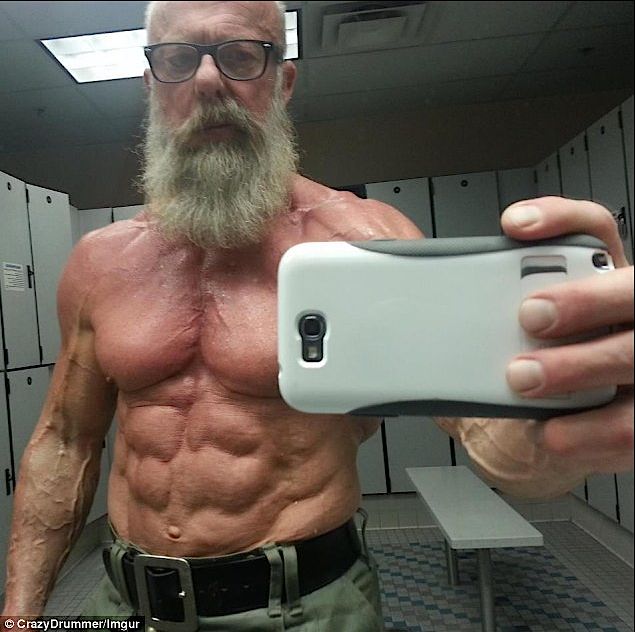 Gaining Mass and Size after 50
For anyone who doesn't know, Pete Sisco is the creator of "The World's Fastest Workout". At the vanguard of abbreviated training, what Pete doesn't know about infrequent workouts, you can scribble on the back of a postage stamp.
If you are a regular reader of these posts, you'll recall we interviewed Pete for our site a few years back. He's a great guy and speaks a lot of sense. Which comes as no surprise, as a background in engineering means he measures everything and leaves nothing to chance.
This attention to detail, recently saw Pete start an important study. His goal? To discover how much mass and size people could gain by performing brief, infrequent workouts.
Here is what happened:
Each participant did the same exercises performed exactly the same way (these consisted of one set per exercise and only six exercises per workout),
Participants were divided into three groups who performed timed sets of 30, 60 and 90 seconds each,
Each group performed at least 8 workouts over 60 or so days.

From Geek to Freak
But here's the really cool thing... These test subjects weren't your typical college kids with testosterone levels through the roof. Also, these test subjects weren't raw beginners either.
Instead, Pete selected guys who had trained before and whose median age was 50-years-old.
Yes. That's right. 
Pete took one of the most challenging groups possible and put them on his program.
And what did he find?
Well, they all made some very impressive gains. Each group displayed significant strength, mass and size increases. But here's the thing: one group REALLY stood out.
These trainees gained mass and size at almost freakish rates: several pounds of muscle and several inches on combined chest and arms from just 8 workouts! (No, that's not a typo.) And remember, these weren't beginners or young college kids. These were regular guys just like you and me.
Building Muscle After 50

This is exciting news when more people are living longer, as recent research by professor Majid Ezzati confirms. 
Publishing his study to The Lancet, results forecast a dramatic climb in life expectancy, with new highs expected to rocket in the next 15 years.

Presently, the average man can expect to live until he is 79.5, with women's life expectancy reaching 83.3. But all that is about to change... By the time 2030 rolls around, men's ages will be boosted to 85.7 with women climbing to a lofty 87.6! 
These numbers are significant when there are around 10 million people aged over 65 in the UK today and estimates predict numbers will double by 2050.
So how do you guarantee your longevity? That's easy. You follow the kinds of weight training programs we promote on this site.
And just because your college years are far behind you, don't think building muscle after 50 can't be done, because it can. Pete Sisco's Mass Gain study shows it's possible. In fact, you can become fitter and stronger than ever before - and you can start making it happen today.
To learn more, check out Pete's Webinar where he dives into all the details.

Here is the link you'll need...