Hours of Sleep Needed - How Much Sleep is Enough to Lose Weight?

W
ant to dream away those unwanted inches?
Discover the hours of sleep needed to melt away the pounds!
Dream Away The Inches
Regular visitors to this site already know how rest and recovery are crucial cogs in the muscle building machinery. Indeed, adequate recuperation - and in particular, sleep - can often mean the difference between failure and success for the typical trainee.
Yet this doesn't tell the whole story.
An often overlooked benefit to getting enough hours of sleep at night, is an improved ability to lose fat by up to 50% as a recent study discovered.
How Much Sleep is Enough?
These findings were recorded at the Kaiser Permanente Centre for Health Research in Oregon, and showed how people who get more than 8 hours of sleep a night and reduce their stress levels, have double the chance of losing weight.
Here is what happened...
Volunteers were asked to cut their calories intake by 500 calories a day in addition to taking at least 180 minutes of physical exercise per week with the target of losing 10 pounds in weight. They were also asked to keep a record of any insomnia, stress and depression, and log how many hours they spent sleeping, watching television, or using a computer.
The results were startling!
Their findings, which were published in the International Journal of Obesity, showed almost 75% of dieters who exhibited low stress levels and enjoyed between 6-8 hours of sleep per night, were more likely to reach the target weight loss. Moreover, they were twice as likely to be successful when compared to participants who reported high stress levels and slept for 6 hours or less.
Time for 40 Winks?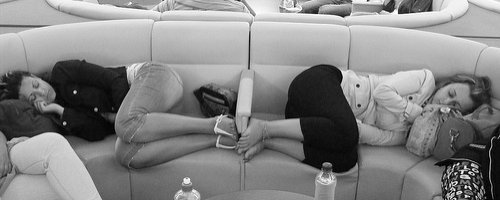 Photo courtesy of stefg74
Hours of Sleep Needed to Lose Fat
So can you REALLY dream away those unwanted inches?
Dr Charles Elder, from the Kaiser Permanente Centre, claimed dieters should "go to bed earlier" to shift the fat.
He continued: "This study suggests that when people are trying to lose weight, they should try to get the right amount of sleep and reduce their stress. Some people may need to cut back on their schedules while others may find that exercise can reduce stress and help them sleep."
In Summary
With more than 25% of Britons now classed as obese, and over 50% of the population overweight, it seems a good night's sleep could be key in the war against wobbly waistlines.
Hours of Sleep Needed to How to Lose Belly Fat
Hours of Sleep Needed to Muscle Building
Comments
Do you have a comment or question you want answering? Share it here!
What Other Visitors Have Said
Click below to see contributions from other visitors to this page...

How Stress Savages Your Muscles Not rated yet
Stress. It's everywhere you look. And even during those moments when you manage to temporarily escape it, you can often fall victim to a nerve-jangling …