An Interview with Personal Trainer Jason Squires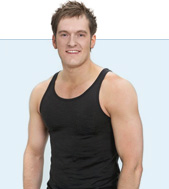 P
ersonal Trainer
Jason Squires
is the founder of
Squires Fitness
and has dedicated himself to helping others improve their fitness in the most efficient and effective way.
We think you'll enjoy hearing what Jason has to say, so drop your dumbbells and pull up a chair!
~ ~ ~
Jason Squires Interview
1. Hi, Jason. As a certified Personal Trainer, what is your favourite thing about your job?
Hi Lee, thank you for taking the time to interview me today.

The favourite thing about my job? That's easy. It has to be the positive comments I receive from people who have reached their fitness goals from my training/diet advice.

I LOVE helping people and to see that my advice is creating a positive change in people's lives is very reassuring :-)
2. Who would you say has been your biggest training influence and why?
Hmm, an interesting one. It would have to be Arnold Schwarzenegger.

When I was a kid, I grew up watching movies like the Terminator, Predator, Running Man, etc, and was in awe at the size of him. Only later, in my teens, did I realise he was the guy who brought bodybuilding into the limelight.

I read his autobiography and that pretty much got me into lifting weights, and 9 years later, here we are!
3. If you had to choose the number 1 training mistake, what would it be?
The one mistake that stands out for me, is incredibly poor form when weight lifting.

In every gym around the world, there are always a few guys who 'swing' the dumbbells like crazy when performing bicep curls.

You are not going to grow if you don't perform the exercise correctly, and more importantly, you are at a big risk of injuring yourself.
4. You are stranded on a desert island, what single piece of training equipment would you take with you?
Dumbbells! Every time!

They are so versatile and can be use for a gazillion exercises. I could quite happily train with nothing but dumbbells for the rest of my life :-)
5. In the same way someone might choose an ideal dinner guest, who would be your ideal training partner and why?
Again, it would have to be Arnold. Just watching Pumping Iron always tops up my motivation levels for staying on top of my training and diet.

I'm not massively into bodybuilding myself, but the dedication and achievements that Arnold has accomplished are astounding. That, and he would also give you a massive amount of drive when pushing out your last rep on bench press!
6. If you could travel back in time, what training advice would you give your teenage self?
Stay strict with your diet.

I don't have any issues sticking with an exercise plan and putting 110% into each workout, but when I first started, I wasn't that clued up on nutrition. But now, as a certified Diet & Nutrition Advisor, I could write a book on how important nutrition is as well as training correctly!
7. What are your training plans for the future?
At the moment, I'm coming towards the end of a bulking cycle. So within the next 2-3 weeks I will be changing my routine and diet to focus more on maintaining muscle mass and cutting body fat.

Interval training, higher reps/lower weight and core movements will be my focus. After summer, I'll be looking to bulk up again for the winter ;-)

Thank you for your time, Jason. I'm sure I speak for our visitors when I wish you every success!
To discover how Jason can help improve your fitness, visit Squires Fitness - Your Online Personal Trainer
Jason Squires to Muscle Building Tips