"Your Soloflex Review - The Rise of The Soloflex Machine!"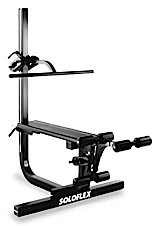 The best home gym to revolutionize the home fitness industry?
Your Soloflex review gives a frank appraisal of this unique home gym.

Used Soloflex, One Careful Owner

"Be careful, it's heavy!" My dad wasn't kidding. Reaching into the back of the van, I gave a heave.

The bar was an elegantly-shaped J, and if my calculations were correct, was the home gym's mainframe. "Mind the paint work!' my dad barked as the bar connected with the van roof - the squeal of metal against metal sounding like fingernails down a blackboard - then I had the bar in my arms, and the curl of the 'J' over my shoulder.

Propping the bar against the wall, I made a quick inventory. "Is that everything?" my dad asked. An assortment of steel parts crowded the garage floor along with a padded bench and a box of ham-shaped resistance straps. I gave a nod. "And now you've just got to put it together!" My dad gave a chuckle as he handed the instruction booklet over: "Good luck, son."

Yet despite being unfamiliar with the Soloflex machine's construction, the home gym quickly went together. By mid-afternoon, I had the butterfly station locked into place with the exercise chart taped beside it. There are SO many exercises! Eager to start, I reached for the resistance straps.
Soloflex Review... just the straps, ma'm?

That was over 10 years ago. Since purchasing my used Soloflex - its original owners were returning from London to Canada - I've never missed a workout, and have NEVER suffered an injury...
It is no coincidence the Soloflex is one of the safest home gyms that ever went to market!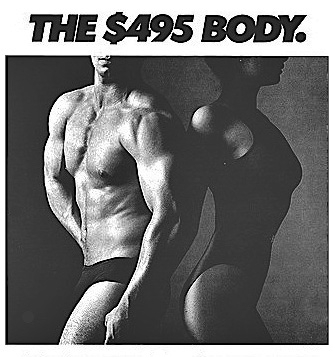 Conceived by its inventor, Jerry Wilson, the Soloflex Muscle Machine went on to achieve critical success finding a loyal following amongst its many users.
Endorsed by Frank Zane (3 time Mr. Olympia), Gale Sayers (NFL running back), Mitch Gaylord (Olympic gold medalist), and Arnold Schwarzenegger - the Soloflex home gym gets a vote of confidence from those who know.
In a moment, we'll be walking through some of home gym's impressive benefits, but before we do, consider some of these Soloflex features:
Soloflex Review Features

Quality build

Ergonomic design

Barbell and body weight exercises

Lift weights at home safely

Unique floating barbell.
Employed by bodybuilders and fitness enthusiasts alike, the Soloflex Muscle Machine safely brings muscle building into the home.
This focus on safety, along with the gym's robust build (Soloflex are happy to boast their gyms will STILL be around in 100 years!), sets this home gym apart from the competition...
And what about the negatives?
Apart from some minor 'leverage issues', the Soloflex Classic Muscle Machine continues to give unfailing service.
Check out the benefits:
---
Soloflex Review Benefits

---
1. Versatility.

The Soloflex machine's design means boredom is never an issue when exercising...

Will your current home gym allow you to deadlift and squat? And what about the pull up and parallel bar dip? Does your home gym have the versatility to provide for these proven strength training exercises?

2. The perfect squatting machine.

Rock-solid construction and a 'floating barbell' makes the squat exercise super-productive. Moreover, strength training with this exercise at home is completely safe - the benefit to you? You get to build muscle with confidence.

3. Full-size adjustable bench.

Hit your pecs from all angles while enjoying complete flexibility...

Does your home gym allow you to perform multi-angled bench presses? And how about inclined sit-ups?

A full-size adjustable bench delivers all these core training exercises to you and more!