"Muscle Building Recipes to Feast Like a King"
Searching for muscle building recipes but DON'T want to spend hours locked in the kitchen?
We show you how to feast like a king!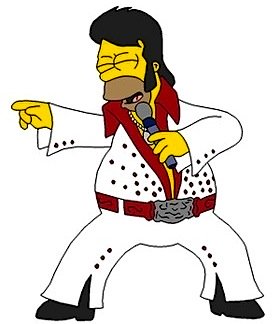 The King of Rock 'n Roll
If the King of Rock 'n Roll were alive today, Elvis would tell you that food is about more than just nutrition. This "hound dog" was famous for his fried peanut butter and banana sandwiches, and for good reason: they taste great! 
For sure, the nutrients in your food are vital to your health and well-being (and muscle building), but food - and in particular meal-times - should, and can be, more than the basic act of 're-fuelling'.
There is a pleasure in meal-times. There is a pleasure in eating well too; and this pleasure can be social or heart-warming (everyone has a special meal growing up as a kid), which makes food - and meal-times in particular - more than calorie-counting, hitting your macros, or the latest fad diet.
Eating well is a part of us. It feeds much more than our tissues and bones...
Food feeds our soul.
Simple Muscle Building Recipes
But what if you're not a whizz in the kitchen? Well, there is good news. You don't have to own a brace of Michelin stars to eat well while you build your body.
Eating well means satisfying your appetite while you provide the nutrients for a healthy diet. This means steering clear of the ready meals in your local supermarket (over-processed and laden with sugar and salt) and electing instead to make your own. For example, your favourite meal can be put together quickly and cheaply using nothing more complicated than a microwave. Indeed, your homemade meals will taste better than a ready meal, and will do you good.
So get ready to "shake, rattle and roll". Because the following muscle building recipe tips promise to put a spring in your "blue suede shoes".
3 "Feast Like a King" Tips:
1. Know Your Muscle Building Foods. 

Knowing your muscle building foods is critical if you want to build mass. And which muscle building foods are best? Keep it simple by selecting a protein source which provides all the essential amino acids; typically, this source might be fish, fowl, dairy, or lean meats. 

Why is this important? Because your protein source fuels your muscle building. It is vital that you do not undersell your protein requirements, just as you must not take in more protein than you physically need. So "don't be cruel", and make sure you get a palm-sized portion of your favorite protein source to fuel your mealtimes.

2. Balance Your Muscle Building Recipes. 

Balancing your mealtime recipes requires adding carbohydrates and healthy fats to your meals. Scientific research shows protein is better assimilated in the presence of fats and carbohydrates - and anyway, did you ever taste a burger without the bun?! The true carbohydrate and fat danger, lies in choosing UNHEALTHY sources. For a healthy, muscle building diet, make whole grains; oats (every "teddy bear" loves them); fruits and vegetables; nuts and seeds, your carbohydrate and fats choices, and your mealtimes will be a tasty pleasure.
---
For Your Free Online Diet Plans and Diet Programs, see Free Diets
---
3. Learn How to Snack on Homemade Protein Shakes. 

You are building muscle, which means your calorie and nutrient needs are beyond the average sedentary girl or guy. This unarguable fact, means you must endeavor to consume 3 daily meals along with 2 healthful snacks as needed. NEVER miss breakfast. This is a cardinal rule and should be adhered to at all times. If you struggle to eat breakfast, then make homemade protein shakes your first meal of the day. So avoid getting "all shook up" and safeguard your gains while providing your body with the perfect kick-start.
---
---
Now we don't want to hear about any of our readers "crying in the chapel". So to help you out at mealtimes, here are some sample muscle building recipes:
Breakfast: Zesty Breakfast Burrito Fill a small whole-wheat tortilla with four scrambled egg whites. Add one tablespoon of salsa, half a tablespoon of shredded cheese, and one tablespoon of sour cream. Roll and serve.

Lunch: Grilled Salmon and Potato Prepare a salmon by squeezing fresh lemon over it. Grill salmon for 10-15 minutes until cooked, and serve with a baked potato and steamed spinach.

Dinner: Southwestern Steak and Rice Place steak in a glass baking dish and pierce the meat with a fork. Squeeze the juice from half a lime over the meat and sprinkle with garlic powder. Bake at 350 degrees Fahrenheit until the meat is cooked to your liking. Then slice and serve with steamed brown rice, salsa, and a mixed salad with one tablespoon of safflower oil.
Your Best Muscle Building Recipes? Write About Them Here!
Do you have a best muscle building recipe? Is your chili hot stuff, or your chicken finger lickin' good? Share your favorite recipe, including your tips and secret ingredients!
Your Best Muscle Building Recipes
Click below to see contributions from other visitors to this page...

the original arnold schwarzenegger protein shake recipe

Here is the original Arnold Schwarzenegger protein shake recipe: two cups of 1% milk 1/2 cup of dry non fat milk solids one egg 1/2 cup ice cream, …
Winter Warmer Grilled Chicken Soup

I have a favorite muscle building recipe which is easy to prepare and perfect for a cold January! Recipe: In a sauce pan, mix one can of chicken …
Muscle Building Tips And Foods...

Below I have listed some of the best muscle building foods: Apples, Hot peppers, Grapefruits, Broccoli, Almonds, Blueberries, Avocadoes, Eggs. And what …