"4 Mouth-Watering Muscle Building Shakes That Are Quick and Easy to Make"
Homemade muscle building shakes can be really simple to make.
Try the classic Blender Bomb, or tickle your taste buds with some Chocolate Delight!
Photo courtesy of kochtopf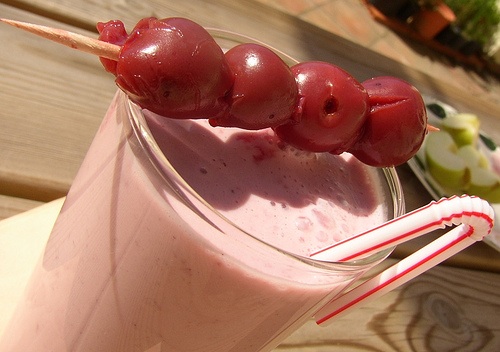 Homemade Protein Shakes

Providing your body with the necessary muscle building fuel can present a problem for the trainee wanting to gain size.
Eating well, and fulfilling your daily protein requirements, will oftentimes be overlooked thereby compromising your efforts in and out of the gym.
Here is where homemade protein shakes can prove so invaluable.
This article aims to show how you can quickly and easily supplement your diet with muscle building shakes.
And the fun part?
You will discover some of the best protein shakes recipes conjured direct from your blender.
Muscle Building Shakes Story
Protein shakes are nothing new. Back when Bill Haley sang "Shake, Rattle and Roll", an altogether different kind of shake was busy rocking a generation of 50s strongmen.
Years before the high-tech protein shakes we take for granted today, these early concoctions were largely milk-based affairs consumed by the quart. Easily digestible, these shakes provided vital calories and nutrients in addition to muscle building protein - they were also inexpensive to create, making them an affordable and practical way to supplement a strength training diet.
The classic "blender bomb" is a noteworthy example. Legendary for its muscle building properties, this beast of the blender could contain all manner of exotic ingredients, including: pineapple, peaches, or even peanut butter! Oftentimes, these shakes would feature in weight gaining diets, usually showing up in the place of scheduled mealtimes or snacks.
Here is an example of a classic "blender bomb" shake:
4 cups of whole milk

2 cups of powdered milk

1/4 cup brewer's yeast

1 banana

2 tablespoons of lecithin

1 tablespoon of wheat germ oil

1 scoop of vanilla ice cream
Fast forward to today, and what worked so well for the strongmen of yesteryear can work for you.
Indeed, providing for your dietary requirements doesn't have to be difficult or expensive, and is available to anyone with some imagination and a blender.
---
4 Mouth-Watering Muscle Building Shakes

---
1.

Shake, rattle and roll.

To add some "rattle and roll" to your homemade protein shakes, why not try some of the following ingredients?

Pineapple, peaches, apples, oranges, mangoes, strawberries, blackberries, raspberries, coconut, honey, molasses, soy flour, sunflower oil, safflower oil, peanut oil, eggs.

2. Smoothie operator.

Want to boost your potassium while tickling your taste buds?

Try a banana smoothie!

Just use frozen and peeled bananas and whizz them in your blender until smooth. For a twist, add a tablespoon of chopped walnuts and you are good to go.

3. Watch your waistline.

For those watching their waistlines, try substituting your whole milk homemade shakes with non-fat milk or even yoghurt.

Your blender bombs will still taste great only with a fraction of the calories.

4. Chocolate delight.

Writing in Visual Impact, Rusty Moore recommends using chocolate milk powder ("Nestle Quick") and mixes it with non-fat milk. Two glasses of this chocolate delight after lifting rivals any of the expensive protein shakes when you are trying to add muscle, and is also kind to your wallet.

But why non-fat milk?

Well, science says fat slows the digestive process, which is great most of the time...but after exercising, you want quick absorption. So how do you combat this and get the nutrients into your muscle cells fast? Non-fat milk.

Enjoy!

Comments
Do you have a comment or question you want answering? Share it here!
What Other Visitors Have Said
Click below to see contributions from other visitors to this page...

strawberries and greek yogurt homemade protein shake

My tips for making a homemade protein shake is to just survey your fridge and see what you would like to put into a homemade shake. It is best to make …
Greek Yoghurt Homemade Protein Shake

I make my homemade protein shakes with these ingredients: 1 tbsp greek yogurt 1 tbsp cottage cheese 1 banana 1 scoop vanilla ice cream and …
Cocoa and banana protein shake

My favorite homemade protein shake uses cocoa, banana, and peanut butter. How good is it? Let's just say I have to hide it from the kids! Recipe: 1 …